A 27-Series Asura in Episode III
Creator
Joachim Mizrahi
Kevin Winnicot
Birthplace
Miltia/Proto Merkabah
27-Series Asura are early experimental combat Realian models, based on data taken from Febronia, but it is unknown if this means they are also transgenic-type Realians or partially human. They were developed in Labyrinthos and designed by Kevin Winnicot and Joachim Mizrahi.
Their ability to judge and adapt to situations is greater than previous combat Realians; they are designed to be able to handle any given situation using their own judgement. They are difficult to calibrate, however, and are still in the testing phase.
Miltian Conflict
Edit
During the Miltian Conflict, Kevin Winnicot planned on using the Asuras not only as weapons, but also to use the Song of Nephilim born from the Lemegeton translation in order to finally activate the Zohar for the U-TIC Organization.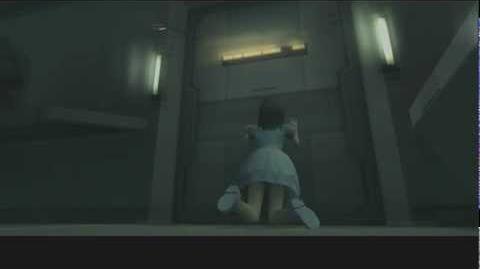 They were placed on the front lines of battle with insufficient calibration by the U-TIC Organization against the Galaxy Federation; as a result, they went out of control during the Song of Nephilim's activation. During their rampage, they killed and injured many without distinguishing friend from foe. They went berserk throughout Miltia, Labyrinthos and the Acute Neurosis Treatment Facility. They brutally killed Shion's parents, Suou Uzuki and Aoi Uzuki.
In Episode III, Shion is able to get revenge on the Asuras.
In Episode I, Febronia is seen being eaten by 27-Series Asuras. However, in Episode III, it is shown that she was killed and eaten by standard Combat Realians. The reason for this discrepancy is unknown. It is possible this is a continuity error, although it is also possible that Febronia was originally killed by the Asuras, while the Combat Realians killing her are the result of Shion's group influencing the events in her subconscious.
27-Series Asuras appear in Project X Zone 2.
Ad blocker interference detected!
Wikia is a free-to-use site that makes money from advertising. We have a modified experience for viewers using ad blockers

Wikia is not accessible if you've made further modifications. Remove the custom ad blocker rule(s) and the page will load as expected.