Aliases
Maiden of Grimoire
Nephilim (fake identity due to false implanted memories)
Age
At least 14 (could be anywhere from 14-30 - but she appears a child due to being a Realian)
Species
Realian (transgenic half-human hybrid type)
Birthdate
Sometime between T.C. 4737 and T.C. 4753
Birthplace
Unknown (possibly Miltia)
Eye color
Amber
Blue (no pupils)
Appearances
Xenosaga: A Missing Year
Voice actor (Japanese)
Ayako Kawasumi
Voice actor (English)
None
"
Thank you... Shion...

—Almadel says goodbye to Shion

"
Almadel is a blonde Realian girl who encounters Shion Uzuki during Xenosaga: A Missing Year. She has no memories and has severe amnesia.
Biography
Edit
Almdadel was created by Joachim Mizrahi as a guinea pig for Lemegeton. Similar to Febronia and Cecily and Cathe, Almadel was also a special transgenic type Realian built from Febronia's test data.
On Miltia, Almadel was hospitalized at the Acute Neurosis Treatment Facility by Suou Uzuki and the U-TIC Organization.
Shion knew her before the Miltian Conflict, and once visited her in her hospital room to give her flowers.
Xenosaga: A Missing Year Edit
Almadel was first found by Jin Uzuki while he was investigating Gnosis Terrorism. She was being taken care of by S.O.C.E. and Juli Mizrahi. She is kidnapped by Doctus, a Scientia agent.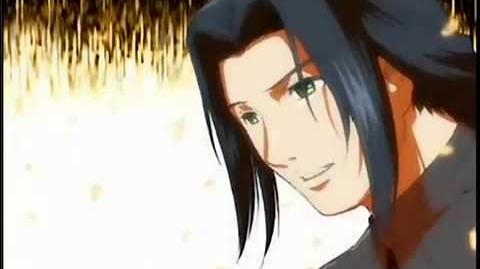 Grimoire Verum planted Nephilim Verum's memories into Almadel's brain. Using Lemegeton, he tried to revive Nephilim's consciousness. However, Almadel rejected these memories and sacrificed herself to stop the Song of Nephilim created by Lemegeton; Almadel Gnosified and turned into salt, much to Shion's horror, despair, sadness and frustration.
Etymology
Edit
The name most likely is a reference to the Ars Almadel (The Art of the Almadel) is the fourth part of the Lesser Key of Solomon, a 17th century grimoire giving instructions for various types of conjuring and elemental magic.
Ad blocker interference detected!
Wikia is a free-to-use site that makes money from advertising. We have a modified experience for viewers using ad blockers

Wikia is not accessible if you've made further modifications. Remove the custom ad blocker rule(s) and the page will load as expected.