| | |
| --- | --- |
| | This article pertains to Xenogears: the sub-database of Xenosaga Wiki. |
Andvari, Bart's Omnigear
Equipped Weight
19.1 kahns
Mn. Generator Coefficient
4.2
Operation Time
480 tsitol
Flight Speed
1245 repsols
Andvari is Bart's Omnigear and the treasure of the Fatima royal family.
A tall, bright red Gear with a large yellow horn and small black wings that was piloted over 500 years ago by Roni Fatima, the first king and founder of Aveh. After the Shevat-Solaris War, Roni sealed the Omnigear away inside of Ft. Jasper, which was then hidden in the Nisan mausoleum. A legend was then passed down through the Fatima Dynasty that if ever Aveh or Nisan were in peril then Roni's descendants could unlock the treasure wake the Omnigear from its slumber to save either nation.
XenogearsEdit
Such a time came 500 years later when Roni's descendant Bart Fatima unlocked the Omnigear and claimed it for his own in order to fight back against Solaris, who had put the whole world in jeopardy, not just Aveh. Andvari is the first Omnigear that Fei Fong Wong's party obtains. Andvari is aligned with the Anima Relic Dan.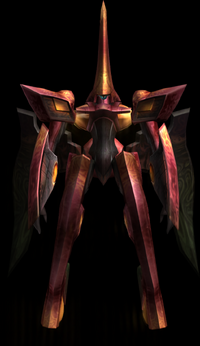 Ad blocker interference detected!
Wikia is a free-to-use site that makes money from advertising. We have a modified experience for viewers using ad blockers

Wikia is not accessible if you've made further modifications. Remove the custom ad blocker rule(s) and the page will load as expected.