| | |
| --- | --- |
| | This article pertains to Xenogears: the sub-database of the Xenosaga Wiki. |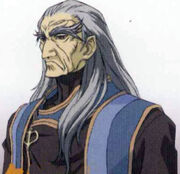 Isaac Balthasar is one of the Three Sages of Shevat. Like the other two sages, his name references one of the three biblical wise men who visited Christ shortly after his birth.
He is one of the first to notice Fei's Gear, Weltall, as "the Host for the Slayer of God." After Weltall is nearly destroyed by Kahran Ramsus, Balthasar, also called Ol' Man Bal by Bart restores and upgrades the gear to a more powerful version with the help of the oher two Sages. This results in Weltall's transformation into Weltall-2 which has a built-in System Id. Grandfather of playable character Maria Balthasar and father of Nikolai Balthasar, creator of the two powerful unpiloted gears Siebzehn and Achtzehn. Nikolai was forced by Krelian to merge himself with Achtzehn. He then was unwillingly programmed in his Acthzehn form to attack Shevat, and was killed by his sister (and Maria's) gear, Siebzehn.

Balthasar lives in the cave under the Aveh desert and Fei and Bart meet him early in the game. His facial features heavily resemble Leonard Nimoy, who is better known to Star Trek fans as Mr. Spock.