Betty, as seen on the Durandal
Species
Human transformed halfway into a Gnosis
Voice actor (Japanese)
None
Voice actor (English)
None
Betty is the name that Jr. gives to one of the test subjects on the Durandal, whose body has halfway turned into a Gnosis. After finding a monogrammed "B" among her belongings, Jr. named her "Betty" because he doesn't feel it is right to refer to the dead by codenames or numbers and treat them like objects, which may stem from his childhood at the Yuriev Institute, where he was addressed as U.R.T.V. unit 666. Betty was a little girl when they first found her. Her name when she was a pure human is unknown.
Xenosaga Episode I: Der Wille zur Macht Edit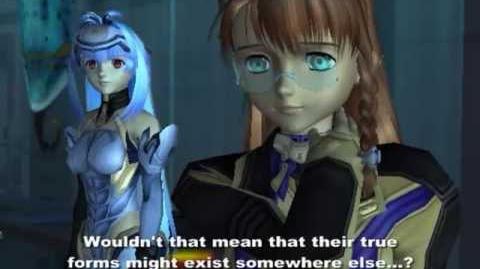 In Xenosaga Episode I: Der Wille zur Macht, Jr. shows Shion Uzuki and her group Betty. Shion is rather horrified because she was touched by a Gnosis earlier on the Woglinde, and wonders if she will have a similar fate to Betty.
Xenosaga Episode I: Der Wille zur Macht Edit
Episode I adaptations Edit
The group seem shocked to learn people can turn into Gnosis, despite seeing Cherenkov turn into one a day ago.
Ad blocker interference detected!
Wikia is a free-to-use site that makes money from advertising. We have a modified experience for viewers using ad blockers

Wikia is not accessible if you've made further modifications. Remove the custom ad blocker rule(s) and the page will load as expected.