Cherenkov's Daughter in Xenosaga Episode I
Voice actor (Japanese)
Unknown
Voice actor (English)
Unknown
"
Garbage.

—The girl upon seeing Cherenkov

"
Cherenkov's Daughter is the cloned daughter of Mrs. Cherenkov and the stepdaughter of Andrew Cherenkov.
Biography
Edit
Cherenkov's daughter, name unknown, is not actually his daughter, but a clone of Cherenkov's wife.
When Andrew Cherenkov's personality was initially reconditioned, the woman who would become his wife was actually his lawyer. Mrs. Cherenkov lived as his wife in order to obtain a license to have a child by cloning herself, as she had no desire to reproduce using else's DNA. Cherenkov murdered Mrs. Cherenkov in a fit of rage when he discovered the truth, and was made to undergo Level 8 Personality Reconditioning in an attempt to prevent him from killing again.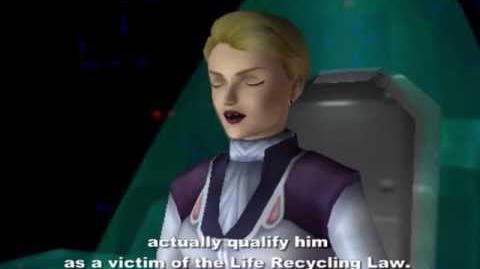 Cherenkov, for a period, returned to stability. However, while walking one day, he encountered the clone of his wife. Shocked, he approached her, and upon seeing him, she muttered the word "garbage." In a frenzy once more, he strangled her to death and was made a test subject for the new Level 9 Personality Reconditioning procedure.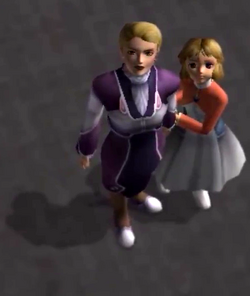 Just before Ariadne disappeared because of the Zohar Link Experiment, Cherenkov saw Mrs. Cherenkov and her clone looking at him.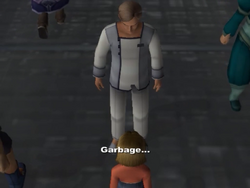 It can be theorized the two Oudogogues in the Gargoyle fight are the Gnosis of Mrs. Cherenkov and her clone.
The use of the word "garbage" is a significant Xenogears-Xenosaga tie-in, as it was the same trigger-word used to set Kahran Ramsus off to kill Myyah Hawwa and turn on Karellen.
Ad blocker interference detected!
Wikia is a free-to-use site that makes money from advertising. We have a modified experience for viewers using ad blockers

Wikia is not accessible if you've made further modifications. Remove the custom ad blocker rule(s) and the page will load as expected.