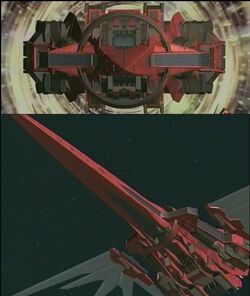 The Durandal is a ship captained by Jr. It is extremely advanced in both warfare and comfort/recreation. Its primary weapons consist of over a thousand photon torpedo tubes, a main frontal laser cannon, and several hundred railgun batteries. Like with all other combat ships it has a force-shielding system. It docks at the Kukai Foundation, enabling the colony to travel about. The Durandal houses the 12 Zohar Emulators, and a 13th empty case meant for the Original Zohar. Other locations include the park (complete with a viewport that takes up almost the entire far side of the room), the residential area (home to fierce battles during the Federation occupation of the ship in Episode I and Dmitri Yuriev's invasion in Episode III), and the always busy main bridge.
At over 4000 meters long, the Durandal looks like a massive red sword in space with two wing-like orbiters circling around it, possibly to maintain some kind of centrifugal gravity. When docked with the Kukai Foundation, these wings rotate at the structure's bottom, adding to the elaborate design of the combined objects. Moreover, the Durandal's sheer size allows it to carry a wide array of anti-Gnosis laser weapons; these were put into use during the escape from the Cathedral Ship in Episode I, as well as the Ormus Stronghold incident in Episode II. However, the Durandal itself is dwarfed by the huge Dämmerung and is minuscule compared to the colossal Abel's Ark.
While it is a constant presence in all three games the Durandal finally meets its end in Episode III when it is taken over by forces loyal to Dimitri Yuriev. Yuriev has the entire crew killed, save Mary Godwin, Shelley Godwin, Juli Mizrahi, Canaan and Alby, then proceeds to unlock the Zohar Emulators from the isolation area and plows the ship into Abel's Ark. The Durandal is completely absorbed by the Ark and split in two. It is visible as a twisted and degenerated wreck within the Ark.
The Durandal was named after the sword Durandal, the legendary blade wielded by Roland, one of King Charlemange's generals from medieval France, and "Gaignun" was the name of his horse.