| | |
| --- | --- |
| | This article pertains to Xenogears: the sub-database of Xenosaga Wiki. |
Equipped Weight
22.7 kahns
Mn. Generator Coefficient
4.6
Operation Time
496 tsitol
Flight Speed
1198 repsols
El-Stier is Rico's Omnigear. El-Stier was created when the Anima Relic Gad aligned with Stier in the Anima Dungeon Two near the end of Xenogears. El-Stier is a larger and more powerful streamlined version of Stier, but it's not that remarkable and is still just as slow as the normal Stier is. At the near end of the game, it can be fitted with its own unique HP Frame found only at Big Joe's shop in the optional Lighthouse dungeon, along with Seibzehn.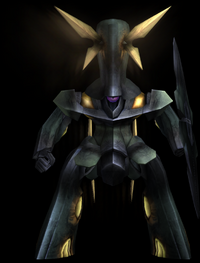 Ad blocker interference detected!
Wikia is a free-to-use site that makes money from advertising. We have a modified experience for viewers using ad blockers

Wikia is not accessible if you've made further modifications. Remove the custom ad blocker rule(s) and the page will load as expected.