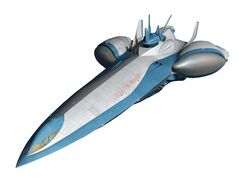 The Elsa von Brabant is a Lohengrin class high velocity interstellar cruiser that transports Shion Uzuki along with some of the other main characters of the Xenosaga series throughout the first and second Xenosaga games. It was once a luxury vessel owned by a criminal organization but today it is merely a cargo/personnel transport ship in commission to the Kukai Foundation. Although the ship looks normal on the outside, inside, cargo boxes are piled around and some sections of the ship seem to have been modified with secret areas, black market parts, and unlicensed weapons. The propulsion system has been upgraded and equipped with the latest Logic Drive System making it the fastest ship in the galaxy (according to the ship's pilot Tony). The captain of the Elsa crew is Matthews with his crew of Hammer the navigator, Tony the helmsman, chaos, who seems to be a jack of all trades, Professor the Professor of the onboard "Robot Academy", and Assistant Scott the assistant of the Professor. The Elsa also boasts several droids that serve various functions on board. The ship length is 166 meters (roughly 1/10 of a mile) and its weight is approximately 8400 tons. According to production notes, the Elsa is designed to resemble a swan in flight.
The Elsa picks up KOS-MOS after they begin to scour the remains of the Galaxy Federation Fleet along with Vector Industries prototype Anti-Gnosis battlecruiser Woglinde after the Gnosis had completely wiped out the entire fleet. Captain Matthews only allows KOS-MOS to board after she threatens to destroy the forward window of the Elsa and forces the ship to set its coordinates for Second Miltia in the Miltian Star System. Shion Uzuki, Allen Ridgely, and Commander Andrew Cherenkov board the Elsa after KOS-MOS with some complications. They only board after Shion threatens to end hers and Allen's lives by opening the escapepod hatch, a clear violation of KOS-MOS's objectives and after chaos asks Captain Matthews to let them on board. Later, Matthews gets into more trouble when they are involved in the hyperspace battle between the U-TIC Organization and the escaping Ziggurat 8 (Ziggy) and the 100-Series Observational Unit Realian Prototype (MOMO). After the battle in hyperspace and on board the Elsa, Captain Matthews decides to allow them to stay on board and the voyage to Second Miltia grows more lively.
The Elsa was taken out of commission for the better part of Episode II and was significantly repaired and upgraded. Identified on screen as the "Elsa Evolution" this new Elsa was more maneuverable, sleeker and boasted a new high-powered weapons system. While the Elsa von Brabant was white and blue the Elsa Evolution was more light grey and green in color.
In Xenosaga Episode III, it is revealed that the Elsa has an "overboost mode", in which ethereal wings sprout from the sides of the ship and allow it to move much faster than normal.