Kukai Foundation
Comments

0
608pages on
this wiki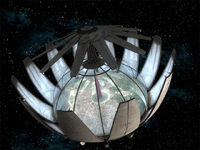 The Kukai Foundation is a special organization established after the end of the Miltian Conflict, with the sole purpose of subjugating the remains of the U-TIC organization. Since then, most of its military forces have been decommissioned, and the other divisions branched off into sprawling, independent civilian corporations, thus forming the basis of the foundation's present structure. The unique concept has been proven to work, for the Foundation is in the top ten rising organizations in the galaxy as of Episode I. Its current leader is Gaignun Kukai(Nigredo). Other key members of the organization include [[Jr.] (Rubedo) and his subordinates, Shelley and Mary Godwin. The fact that Vector Industries is one of its primany investors explains why most of the equipment installed onboard the Durandal is advanced Vector models. Gaignun himself has been seen in conversation with Wilhelm, CEO of Vector.
The Foundation is also the name of the mobile base of operations of the group, which in itself has developed into a small civilization. The Kukai Foundation can move throughout space due to its ability to link with the space ship Durandal, which in turn is commanded by Jr. Smaller ships like the Elsa have extended contracts with the Foundation. Captain Matthews owes ten million to the Foundation which you can help pay off as a side quest in Episode II.
There are several small towns, or sectors, within the Kukai Foundation. City Sectors 26 and 27 are the most popular, and received severe damage during the Gnosis attack prior to the Proto Merkabah incident. Nigredo and Rubedo's private beach resort is located due east of the city sectors, in the same lake that houses the Durandal when docked. Fishing is also a popular sport among Kukai residents, for there are dozens of docks lining the Foundation's manmade lakes. Professor's A.G.W.S. hangars are also located on the Foundation.
Second Miltia has an alliance with the Kukai Foundation, which forms the basis for the rocky situation where the Federation was manipulated in believing that both Miltia and the Foundation were involved with the Woglinde incident during Episode I. In Episode II, the Kukai Foundation and Second Miltia remain close allies and independent factions.