List of antagonists in Xenosaga
Comments

0
607pages on
this wiki
The antagonists in Xenosaga are somewhat diverse, in character and objectives. There are heads of organizations, spies in the government, and power-craving warmongers to name a few character types. This list will link all of the character names to their character pages, with brief descriptions of their antagonistic conduct. Entries are in alphabetical order.
Freelance Antagonists
Edit
Freelance antagonists are people who aren't fully involved in an organization, but may dabble around with them all the same to suit their personal gains. They are always motivated by personal concerns.


Albedo is Jr. and Gaignun's brother and he is insane. Traumatized by events during their mission years ago, he uses his gift of immortality to show off to and intimidate victims of his cruelty. His bond between his brothers is forever changed, and only death will truly satisfy him. He later participates in the activities of a certain elite organization, cementing him on the side of the antagonists. Albedo will always do whatever serves his purpose in the end, though...
Citrine is Rubedo, Nigredo, and Albedo's "sister", also a U.R.T.V. and devoted servant of Dmitri Yuriev. She eventually stands in the way of the party in order to buy more time for Yuriev. She has always been more devoted to serving the intended purpose of her creation than to choosing her own path in life.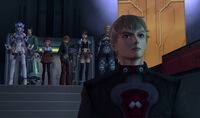 Dr. Dmitri Yuriev creates thousands of realians to disguise his own sinister intentions, which leads to the "births" of Rubedo, Nigredo, and Albedo. Murdered in earlier years by a young Nigredo, Episode III reveals the rest of the mystery surrounding this evil man and the designer children he brought into the world. Dr. Yuriev is another freelance antagonist who will stop at nothing to get what he wants. Yuriev's distinct goal is to attain power, and he has the capability to do it. He also harbors ill feelings toward God.
The U-TIC organization is composed of very religious individuals who claim that Lost Jerusalem is rightfully theirs. They are lead by a patriarchal society which includes Patriarch Sergius XVII, Margulis, and Orgulla to name a few individuals. The organization operates in secrecy and is known to commit acts of terrorism from time to time, stopping at nothing to piece together the information leading to The Holy Land. U-TIC, Ormus, and the Immigrant Fleet are all names for branches of the same organization.


Heinlein
Edit
Heinlein is supposedly a high-ranking member of U-TIC / Ormus. He takes over after the Patriarch's death in Episode II. He gives orders directly to Colonel Margulis. Heinlein only appears to Margulis in a bright light, and he uses a fake voice to disguise himself more. Needless to say, Heinlein is involved in more than one antagonist's role...
Hermann and Richard are seen throughout Episodes II and III on orders from Margulis and Pellegri to try to stop you. They always fight together and never show their faces. They are of notable mention only because of the amount of times they get in the main party's way. Hermann can be seen in one of the non-mainstream Xenosaga games along with Richard.
Colonel Margulis is a commanding officer in the U-TIC organization. Pellegri is his trusted aid and right-hand woman. Margulis answers directly to the Patriarch, addressing him as "Emenence". The Colonel is directly involved in the struggles of the main party, often showing up at the most advantageous times to get in their way. He changes the destiny of Andrew Cherenkov by giving him a purpose and a master. Margulis shares a bitter past with one of the main characters and Pellegri, which contributes to the story in escalating drama as the series progresses.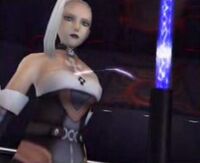 Orgulla, while completely dedicated to Ormus, is still rather low on the leadership chain. She possesses the interesting capability to change her personality at will, from one called "Orgulla" to one called "Manes". Each exhibit a colored aura of blue or orange. Her eyes change color just before she changes personalities. She falls into the same low-end antagonist rating as Richard and Herman.
The Patriarch Sergius XVII is one of the higher leaders of the sinister U-TIC / Ormus configuration. He is stubborn and thinks very highly of himself compared to others. He is the last challenge of Episode II and doesn't have much of a backstory besides being a tyrant and a religious figurehead. Everything you learn about him comes straight out of Episode II.
Devoted subordinate and rumored lover of Colonel Margulis. Pellegri and the Colonel have known each other for a long time and have an obvious bond of trust. She often acts as his arm, delivering "messages" to the main party and running errands for the organization. Like Margulis, Pellegri has a boundless pride in her beliefs and convictions. As a fierce fighter she is relentless in battle, and often victorious.
Richard and Hermann are seen throughout Episodes II and III on orders from Margulis and Pellegri to try to stop you. They always fight together and never show their faces. They are of notable mention only because of the amount of times they get in the main party's way. Richard can be seen in one of the non-mainstream Xenosaga games along with Hermann.
Major Antagonists
Edit
These are the people who have a MUCH higher view of the fray. They include Wilhem and his Testaments first and foremost. The Testaments are all antagonists who have been granted a greater power, and as such will only be referred to by their color and not by their previous identity to prevent spoilers.


By the end of the series you might think he doesn't quite belong here, but it is quite open for debate. Known infamously as the mad scientist that caused so much trouble for the galaxy by summoning the Gnosis and hiding the path to Lost Jerusalem, Mizrahi struggles to clear his name even after death. It is by revealing the mysteries behind Mizrahi's death that the main party comes to realize the path they must follow. Thusly, he antagonized them to proceed. Did Joachim make a mistake? Did he do everything perfectly? You decide.
Sellers lost the use of his legs some years ago and floats around in a hover-chair all of the time. He theorizes with some of the most sinister antagonists on this list, contributing to secret projects and generally strengthening the battle strategies. Sellers is dangerous for his mind, not his fighting capability. He is privy to very sensitive information, though he doesn't have the same goals in mind as his colleagues.
T-elos doesn't grace the screen until Episode III, so you can't say much without spoiling everything about her. She clearly looks just like KOS-MOS though, and that sexy scowl isn't because she wants to play. T-elos will try to destroy KOS-MOS every chance she gets throughout Episode III, like a relentless android bounty hunter. T-elos was created by the most intelligent of the antagonists on this list to serve as a replacement for KOS-MOS. Why? Read the character page or play Episode III to learn more.
Testament Black earned the right to wear the darkest cloak. Black is a serial killer from a long time ago, brought into the circle to help Wilhelm achieve his goal. Mystery IS this character. For no explainable reason other than that he is a Testament, he attempts to thwart the main party again and again during Episodes II and III. He has more ties than you might think to the heart of the matter at hand, however. Black is the oldest Testament of the 4, having been granted his new powers first. He is vicious in combat and loves to cause chaos and torment.
Testament Blue is among the newer 2 of the 4 Testaments, coming in at #3 to be created. He has much to learn about the overall plan Wilhelm is executing and about his capabilities as a Testament. Blue has a bitter past which you learn about in Episode III. Like every character ever it is the events of his past which motivate him to do what he is doing. He believes that with his power he can right the wrongs he made years ago. To do that, he needs to cross paths with the main party from time to time, during which moments he attempts to stop them from getting in the way. Blue is well-known for acting hastily and not thinking things through as much as his peers.
Testament Red is Wilhelm's right-hand man. He is incredibly intelligent and seems to share the same goals as his master. He is often seen discussing the course of events with Wilhelm in his private room, during which scenes we become privy to the most explicit details of the story. His role is primarily dedicated to Episode III, though he is a known plotter since Episode I. His tendancy is to think and plan things through. Testament Red is the 2nd of the 4 Testaments to be created, and certainly the most vital to operations.
Testament White, the last of the 4 Testaments to be created, first appears at the end of Episode II. He doesn't have much time to be mysterious or antagonistic, though since he is counted among these he is considered to be extremely powerful and motivated. Everything about White comes with the knowledge of his identity. Once that is revealed, his actions are explained. White has a strong desire to defy destiny and the purpose of his creation. As a Testament he causes less problems for the galaxy than before, but poses a bigger threat. What are this man's desires?
The man with the plan. Wilhelm sits comfortably in his private office watching the stars or playing chess with his favorite Testament. His special compass tells him what key characters are doing, confirming to him that all is going to plan. What is he planning? What makes Wilhelm an antagonist? Still waters run deep, and unless you play through Episode III or reference the character page, you'll never know just HOW deep. Even after finishing Episode III you'll have to think about just how involved this omnipotent being has been to figure it all out.