Mary in Xenosaga Episode III
Voice actor (Japanese)
Rie Kugimiya
Voice actor (English)
Wendee Lee (I)
Ali Hillis (II, III)
This article is for Mary Godwin, the sister of Shelley Godwin. For the true form of KOS-MOS, see Mary Magdalene.
"
We humans might be shameless at times, but that's still how we feel. I think if someone told me that my heart was just a fake, I'd really be hurt.

—Mary, regarding MOMO

"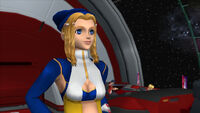 Mary Godwin is the close sister of Shelley Godwin. Although she holds no true rank in the Kukai Foundation organization, Mary functions as Jr.'s second-in-command on board Durandal as well as the Chief of the Kukai Foundation's Strategy Division. Everyone in the Foundation respects her and values her opinions in spite of her unofficial affiliation. In fact, many members of the Kukai Foundation have initiated the "Mary & Shelley Fan Club", at the suggestion of Jr. himself. Mary is quite fond of Jr. in spite of his childlike appearance, although her true affection lies with Gaignun. She was born on Miltia but speaks with an unknown planetary accent. Mary is also fun loving and the life of the party within the Foundation.
Mary, along with an unamed soldier, is a temporarily playable character in Xenosaga Episode I: Der Wille zur Macht, when the player is first introduced to Rubedo. She pilots a pink A.G.W.S. with two laser guns. She cannot exit the A.G.W.S.
Her name, along with Shelley's, comes from Mary Shelley, the author of Fra'nkenstein.