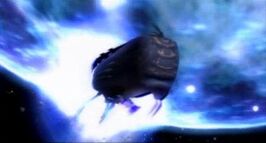 Old Miltia
is the original Miltia that was lost in the Abyss in the
Miltian Conflict
. Old Miltia holds the
Original Zohar
and
Labyrinthos
. The
U.M.N.
gate for Old Miltia is sealed in the
Abyss
until the
Y-Data
, which was entrusted to the
100 Series Observational Realian
MOMO
, is used by
Albedo
. After the link between
Cecily and Cathe
and the Zohar is destroyed, the
Ω System
awakens and destroys Old Miltia from the inside out. Next, the Ω System is completely destroyed with the annihilation of
Proto Ω
, which leaves the Original Zohar as the only remaining piece of Old Miltia. That, in turn, is sucked up by
Abel's Ark
.
Miltia was one of the autonomous worlds occupied by the people of the Immigrant Fleet. This was also the homeworld of the Uzuki family before the Miltian Conflict forced them to relocate to Second Miltia.