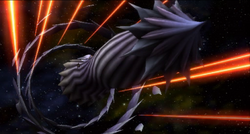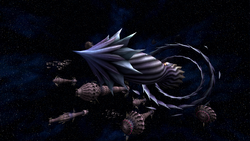 The Prodigium is an Ormus Society battleship and the flagship of the Inquisitor fleet under Commander Margulis. It is over 8000 meters in length and is armed with a wide variety of weaponry. It is first seen in orbit over the strange spatial land mass "Rennes-le-Château", after transporting Margulis and E.S. Levi there from the ruins of Michtam.
Ad blocker interference detected!
Wikia is a free-to-use site that makes money from advertising. We have a modified experience for viewers using ad blockers

Wikia is not accessible if you've made further modifications. Remove the custom ad blocker rule(s) and the page will load as expected.