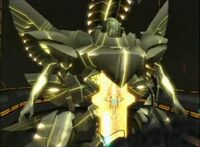 Proto Ω (spoken as "Proto Omega") was a superweapon originally created to destroy the Federation invasion units during the Miltian Conflict. It was deployed against Federation A.M.W.S. during the first and Second Descent Operations. U-TIC planned to use it during the federation's third Descent Operation and to escort the Song of Nephilim Device from Miltia (where it would presumably dock with Proto Merkabah and become a mobile superweapon against the Federation). However, in the confusion of the appearance of the Gnosis, it remained in storage until the Immigrant Fleet invasion of Miltia 14 years later. Its creation was ordered by Patriarch of Ormus and fused with the U-DO system. Later, Sergius would attempt to use it as a tool for galactic domination, both to destroy the Gnosis and subdue the Federation. Proto Ω's power source is the Original Zohar. The only way Proto Ω can be activated is if the Original Zohar's control system were destroyed. Furthermore, Proto Ω's true fortress is not Labyrinthos, but the Ω System: the massive facility that Old Miltia transformed into. The Patriarch planned to use Proto Ω's U.M.N. Phase Transfer Cannon, which could strike any target in known space, for galactic domination. However, Wilhelm and Heinlein had other plans. Heinlein and Margulis abandoned the Patriarch with Proto Ω in the Ω System, and Wilhelm sent the Testaments to destroy it and the elderly leader of the Ormus society.
Proto-Ω is one of the Relics of God, constructed by people in ancient times from the Y-Data to invade the realm of God. In T.C. 4768, Dmitri Yuriev nearly brought this plan to fruition with Ω Res Novae, a rebuilt version of Ω.
Ω shares visual similarities with the Malach Angel, the mobile weapon terminal part of Deus from Xenogears in its original form. It also had a mobile fortress called "Merkabah" (Merkavah in Xenogears, resulting from a mis-Romanization), and was used by Krelian to ascend to the realm of God.