Togashi in Xenosaga Episode III
Occupation
Vector employee
Voice actor (Japanese)
Tetsu Inada
Ryohei Nakao (anime)
Voice actor (English)
Ed Cunningham (III)
Scott Kilgore (anime)
"
They'll learn not to mess with the Princess of First Division. We're gonna send them packing!

—Togashi, regarding CAT's choice to choose KOS-MOS to compete with Omega Res Novae.

"
Togashi Yukihira is a minor character from Xenosaga. He is an employee at Vector Industries, a colleague of Allen Ridgeley. He joined Vector after the KOS-MOS Archetype incident. He finds great satisfaction in giving his mentor Allen a hard time.
His hobby is judo and he is in love with Miyuki Itsumi.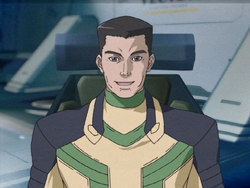 Ad blocker interference detected!
Wikia is a free-to-use site that makes money from advertising. We have a modified experience for viewers using ad blockers

Wikia is not accessible if you've made further modifications. Remove the custom ad blocker rule(s) and the page will load as expected.