| | |
| --- | --- |
| | This article pertains to Xenogears: the sub-database of the Xenosaga Wiki. |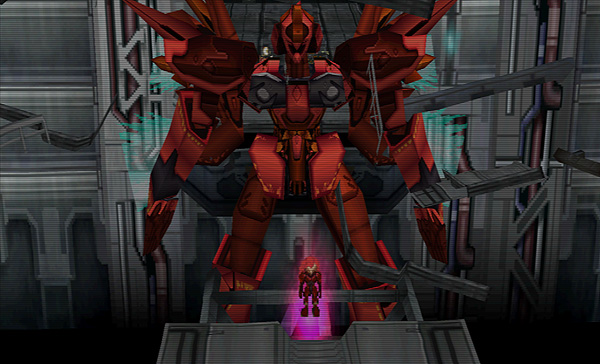 Weltall-Id is the result of Fei's alter-ego, Id emerging, bringing out the true form of Weltall. In this form, Weltall turns crimson red with glowing yellow markings around various parts of its body. The backpack components shift around the arms and legs as armor, the back amplifiers open and six teal wings are generated from excess ether, caused by Fei's Contact ability to directly tap into the Zohar's ether reserves.
Needless to say, in this mode, the gear's power is tremendously heightened and its ether capability is near infinite. It was modeled as an almost exact replica of Grahf's Omnigear, Alpha Weltall in terms of power. Therefore its power is easily comparable to, if not greater than, that of an Omnigear.
This gear is said to have single-handedly destroyed the continent of Elru, as well as Lahan Village at the beginning of the game. It would go on to add most of Vanderkaum's fleet, the first Yggdrasil, and Solaris' main city Etrenank to its vast destruction count. It has also brought a great shame and trauma upon Kahran Ramsus, who had been effortlessly beaten by this gear multiple times, resulting in Ramsus' obsessive desire to pursue and destroy Weltall-Id (or really, Fei in general) despite the overwhelming odds. In the game, you only fight this gear twice, the first of which is a fixed losing battle.
When Weltall was destroyed by Ramsus in his Vendetta, its alter-ego, Weltall-Id, was destroyed as well. While an aptly-named "System Id" is installed into the upgraded Weltall-2, Weltall-Id no longer truly existed. However, its spiritual successor, Xenogears-Id did live on briefly when Weltall was transformed into Xenogears. Ultimately, any traits within the gear relating to Id were phased out once Id himself was merged with Fei's own persona.